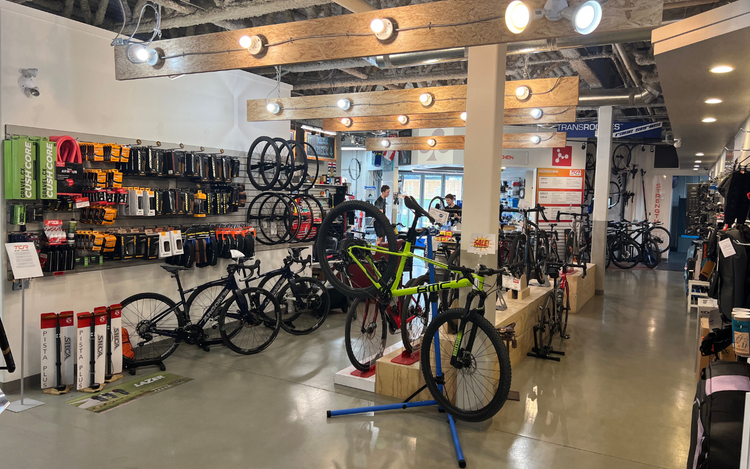 — TCR SPORT LAB - CALGARY, AB

ACHIEVE YOUR GOALS IN TRIATHLON, CYCLING AND RUNNING

Over 15+ Years in Calgary! We help everyday athletes succeed in sport and movement.
SPECIALIZED CAMPS & CLASSES
We offer local (CGY), national, and international camps and classes to suit your training needs and preferences. Whether you're looking to train close to home or explore a new environment, we have the right option for you.
LEARN MORE
Our Store
From the latest bikes to the most comfortable athletic gear, we bring the best of our physical store to the comfort of your home.
SHOW NOW
BEST BIKE SHOP IN CALGARY
I do like this shop a lot. They carry a good inventory of products, and the staff are truly knowledgeable.

By far the best bike shop in Calgary (IMO), if you are looking for mid and high end roadie products.
CHECK THEM OUT
Hands down one of the best shops you can go to. Mechanics are top quality, innovative and familiar with working on and the expectations of working on high-performance bikes. Recommend checking them out for fitting, equipment or service and their training platform.
MORE EXPERTISE
The best bike shop I've found in Calgary. Very friendly and welcoming staff, not the least bit pushy on sales. I had a bike fit here that changed my life, Thanks Cory. It's like riding on a cloud now, a little bit of coaching along with the fit has been a huge help too. I'm a road cyclist and these guys have more expertise in that category than any other shop in Calgary.
GREAT EXPERIENCE
Recently ordered a new bike through TCR - from initial bike fit through to final delivery - great experience start to finish. Friendly and knowledgeable staff from Cory and John to the rest of the team - is my one stop shop for anything bike related.
FRIENDLY AND HELPFUL
I recently started checking the shop out the last few months and buying a few things from them. Staff has always been friendly and helpful and willing to take the time to chat. Dealt with John mostly, but they all seem great! To me it has the feeling and atmosphere of a small mom and pop shop compared to the big unfriendly shops, but make no mistake they are top shelf and have the products and services as such.
EXCELLEND AND KNOWLEDGEABLE
Great bike shop with excellent and knowledgeable staff. I've been here for both V02 max testing and bike sizing and had great experiences each time. Cory (owner/op) is easy to talk to, friendly and will get you on the right track to meet your goals. I would highly recommend this shop.
GREAT CALGARY BUSINESS
All around great Calgary business! Solid coaches, programs, bike repair, and equipment. Even when COVID-19 shut down gyms, TCR put their programs online and kept the community engaged. I always recommend TCR to people looking for cycle training, bikes, repairs and bike fits.
BEST IN WESTERN CANADA
Fantastic applied sport knowledge - got fitted for my bike here and had my training zones calculated. Best place in Western Canada if you want to make serious improvement while enjoying your training. Cory Fagan is the best in the business.
THE PLACE IS AMAZING
For YEARS I had struggled answering the question of how hard to I race and what should by training zones be. I could have saved myself 100's of hours reading on the internet by seeing Cory a long time ago. He is fantastic and the place amazing. Take the guess work out - get tested!
BEST CUSTOMER SERVICE
Got a fit and ordered a bike at TCR and can honestly say it was some of the best customer service I've ever received. Can't imagine shopping anywhere else now.
A BIT OF EVERYTHING!
Has a bit of everything! Bike fitting, indoor training, strength training, personalized coaching, bike/clothing/equipment sales. It's altitude lab is also a great and unique feature.
AWESOME BIKE SERVICE
Great help and awesome bike service. Went in for some help with my brakes and now my bike is running perfect.